help promote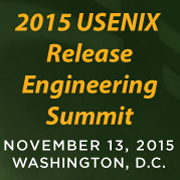 Get more
Help Promote graphics!
twitter
usenix conference policies
How I Learned to Stop Worrying and Love Push-On-Submit
Website Maintenance Alert
Due to scheduled maintenance, the USENIX website will not be available on Tuesday, December 17, from 10:00 am to 2:00 pm Pacific Daylight Time (UTC -7). We apologize for the inconvenience.
If you are trying to register for Enigma 2020, please complete your registration before or after this time period.
Abstract:
Pushing configuration changes on submit promises faster push latency and fewer humans in the loop, but at the cost of some intimidating risks: How much will we have to change our configuration? What will I really gain from this? What if these robots take my job?
Sam Mussmann will answer these questions and more from his experience of creating and rolling out a push-on-submit system for his team at Google, a system that his team would now not be caught dead without. A highlight reel of benefits include faster incident response, better configuration, and better documented push processes.
Open Access Media
USENIX is committed to Open Access to the research presented at our events. Papers and proceedings are freely available to everyone once the event begins. Any video, audio, and/or slides that are posted after the event are also free and open to everyone. Support USENIX and our commitment to Open Access.
BibTeX
@conference {208671,
author = {Sam Mussmann},
title = {How I Learned to Stop Worrying and Love Push-On-Submit},
year = {2015},
address = {Washington, D.C.},
publisher = {{USENIX} Association},
month = nov,
}