help promote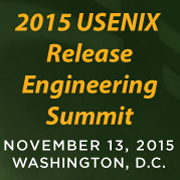 Get more
Help Promote graphics!
twitter
usenix conference policies
Automated Testing and Release Engineering
Abstract:
The heart of the continuous delivery process is confidence based on testing. Design each stage in the delivery pipeline to provide more confidence in the value of the release. Break up the execution of large test suites into smaller test runs focussed on a single point of concern. At each stage, give Engineering confidence that they can make more changes and QA confidence that the product is ready for more testing. Treating tests as an integral part of the product value gives Operations the confidence to release to production.
Open Access Media
USENIX is committed to Open Access to the research presented at our events. Papers and proceedings are freely available to everyone once the event begins. Any video, audio, and/or slides that are posted after the event are also free and open to everyone. Support USENIX and our commitment to Open Access.
BibTeX
@conference {208664,
author = {Brian Colfer},
title = {Automated Testing and Release Engineering},
year = {2015},
address = {Washington, D.C.},
publisher = {USENIX Association},
month = nov,
}