help promote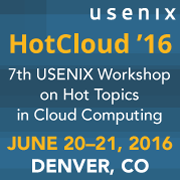 twitter
usenix conference policies
The Importance of Features for Statistical Anomaly Detection
Authors:
David Goldberg and Yinan Shan, eBay
Abstract:
The theme of this paper is that anomaly detection splits into two parts: developing the right features, and then feeding these features into a statistical system that detects anomalies in the features. Most literature on anomaly detection focuses on the second part. Our goal is to illustrate the importance of the first part. We do this with two real-life examples of anomaly detectors in use at eBay.
Open Access Media
USENIX is committed to Open Access to the research presented at our events. Papers and proceedings are freely available to everyone once the event begins. Any video, audio, and/or slides that are posted after the event are also free and open to everyone. Support USENIX and our commitment to Open Access.
BibTeX
@inproceedings {190605,
author = {David Goldberg and Yinan Shan},
title = {The Importance of Features for Statistical Anomaly Detection},
booktitle = {7th USENIX Workshop on Hot Topics in Cloud Computing (HotCloud 15)},
year = {2015},
address = {Santa Clara, CA},
url = {https://www.usenix.org/conference/hotcloud15/workshop-program/presentation/goldberg},
publisher = {USENIX Association},
month = jul
}