help promote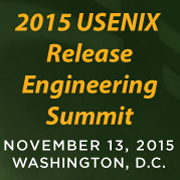 Get more
Help Promote graphics!
twitter
usenix conference policies
Building a Distribution and Continuous Delivery for Network Devices
Website Maintenance Alert
Due to scheduled maintenance, the USENIX website will not be available on Tuesday, December 17, from 10:00 am to 2:00 pm Pacific Daylight Time (UTC -7). We apologize for the inconvenience.
If you are trying to register for Enigma 2020, please complete your registration before or after this time period.
Akshat Sharma, Cisco Systems, Inc. 
Abstract:
At Cisco, we're working to change the way our gear participates in the datacenter ecosystem. Over the next few months, releases of both NXOS and IOS-XR will be released which expose our Linux Hosting environment. This lighting talk is a brief story of our funky embedded linux turning into a faux server distribution and how we built tools to support a CI pipeline along the way. Because Cisco is an enormous company with lots of interesting people and priorities, I'll share some anecdotal stories that should be entertaining or at least amusing (embedded devices are bedeviling in some ways: limited memory, disk, compute, etc.)
BibTeX
@conference {208670,
author = {Akshat Sharma},
title = {Building a Distribution and Continuous Delivery for Network Devices},
year = {2015},
address = {Washington, D.C.},
publisher = {{USENIX} Association},
month = nov,
}