help promote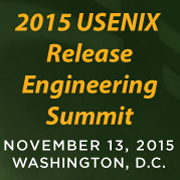 Get more
Help Promote graphics!
twitter
usenix conference policies
Distributed Systems at Scale: Reducing the Fail
Website Maintenance Alert
Due to scheduled maintenance, the USENIX website will not be available on Tuesday, December 17, from 10:00 am to 2:00 pm Pacific Daylight Time (UTC -7). We apologize for the inconvenience.
If you are trying to register for Enigma 2020, please complete your registration before or after this time period.
Kim Moir, Mozilla Corporation
Abstract:
Mozilla has a large continuous integration farm that we use to build and test our products. This talk will discuss 10 spectacular ways it can burst into flames and the steps we are taking to make it more resilient.
BibTeX
@conference {208669,
title = {Distributed Systems at Scale: Reducing the Fail},
year = {2015},
address = {Washington, D.C.},
publisher = {{USENIX} Association},
month = nov,
}