help promote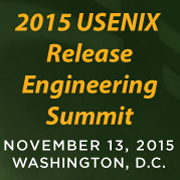 Get more
Help Promote graphics!
twitter
usenix conference policies
Science, Reproducibility, and Dependency Management
Sarah Elkins, SRA International
Abstract:
The scientific method includes the principle of reproducibility. The scope for reproducibility is broad for scientific computing experiments and clinical health studies using software applications, and it is difficult to ensure perfect reproducibility, but release engineering has some ways to address and improve it. This lightning talk will focus on relevant aspects of dependency management for builds, touching on third party (open source) packages, artifact repository servers, and proxying from approved external repositories.
BibTeX
@conference {208662,
author = {Sarah Elkins},
title = {Science, Reproducibility, and Dependency Management},
year = {2015},
address = {Washington, D.C.},
publisher = {USENIX Association},
month = nov
}