help promote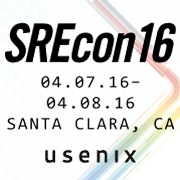 twitter
usenix conference policies
Panel: Fifty Shades of Grey: Different Models for Reliability Work
Fernanda Weiden, Facebook; Stephanie Dean, Dropbox; David Barr, Twitter; Abe Hassan, Google
Abstract:
There are many different approaches for reliability work, and different needs depending on each company's needs and infrastructure. One might spend time dealing with private clouds, public clouds, in-house software, third-party software, developing, watching, instrumenting, and debugging. Sometimes we need to build, sometimes we need to optimize, sometimes we need to un-break things.
How do we build teams that adapt to the different needs, and how can we hire effectively for each one of those cases? What are the different approaches we can take for the work? In this panel we'll discuss some of that, and compare different approaches from different organizations actively working on systems reliability.
Stephanie Dean has built, grown, and supported various types and sizes of operational engineering teams for the past 10 years at companies such as Amazon, Facebook, and Twitter. She's now living the life enabling teams to build out Infrastructure as a TPM at Dropbox.
Dave Barr has been in the industry for 20+ years and a Site Reliability Engineer with Google, StumbleUpon, and Twitter. He now manages several SRE teams at Twitter, covering core Twitter services, Search, and Ads serving.
Abe Hassan is a Site Reliability Manager at Google, working on the Search Indexing team. Prior to joining Google, Abe managed the operations team at Say Media and at Six Apart, responsible for the web operations of blogging services LiveJournal and Typepad.
Open Access Media
USENIX is committed to Open Access to the research presented at our events. Papers and proceedings are freely available to everyone once the event begins. Any video, audio, and/or slides that are posted after the event are also free and open to everyone. Support USENIX and our commitment to Open Access.
BibTeX
@conference {208884,
author = {Fernanda Weiden and Stephanie Dean and David Barr and Abe Hassan},
title = {Panel: Fifty Shades of Grey: Different Models for Reliability Work},
year = {2015},
address = {Santa Clara, CA},
publisher = {USENIX Association},
month = mar,
}

Presentation Video
Presentation Audio