help promote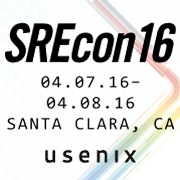 twitter
usenix conference policies
Panel: Educating SRE
Craig Sebenik, Matterport;David Mah, Dropbox; Andrew Widdowson, Google; Philip Boyle, Facebook
Abstract:
Join us for a panel discussing various challenges facing the education of SREs. The panel will focus on new SREs (coming out of higher education), ongoing education and how we as a group educate developers.
Training the next generation of SREs coming in to our field means figuring out what information is important from other fields as well as trying to pass on lessons learned from years of experience. Also, we need to listen to new people that bring an unfettered perspective.
Educating SREs within a company present slightly different issues. Namely, keeping up to date on tools that may be very specific to the processes used at any one company. Companies may choose to follow industry norms or may do something totally different. Companies need to keep their employees up to date with there specific goals.
Lastly, developers have their own priorities, but we need their help to emit metrics, add caching as well as a host of other code-level changes. We can learn from their experiences and also educate them to our best practices.
Craig Sebenik works for a startup as the only SRE (infrastructure engineer). This presents plenty of opportunities to empower developers to maintain their own code. But it also presents a number of challenges with educating devs on adding metrics, improving deployment, etc. Craig recently left LinkedIn where he was an SRE and led a few different initiatives aimed at training SREs. There are valuable lessons from both large and small companies. Craig has a passion for education and is very interested in sharing knowledge throughout our industry.
David Mah is a Dropbox SRE characterized by his paranoia when dealing with infrastructure. Sometimes people consider this to be 'attention to detail'; other times it would just be considered paranoia. His current focus is on building protections in Dropbox's in-house storage system to avoid losing user data. He recently graduated from the University of Washington and brings the perspective of one who didn't know much about SRE until fairly recently.
Andrew Widdowson is a Staff Software Engineer in Site Reliability Engineering at Google. In addition to being a long time member of the Search SRE team, he is the tech lead for "SRE EDU", Google's internal efforts to support a culture of teaching of and from SREs. Andrew also leads a team of engineers that fight abusers, scrapers, and attackers of the search stack. In his spare time, Andrew serves as a chair of the Carnegie Mellon University School of Computer Science Alumni Advisory Board.
Open Access Media
USENIX is committed to Open Access to the research presented at our events. Papers and proceedings are freely available to everyone once the event begins. Any video, audio, and/or slides that are posted after the event are also free and open to everyone. Support USENIX and our commitment to Open Access.
BibTeX
@conference {208879,
author = {Craig Sebenik and David Mah and Andrew Widdowson},
title = {Panel: Educating {SRE}},
year = {2015},
address = {Santa Clara, CA},
publisher = {USENIX Association},
month = mar
}

Presentation Video
Presentation Audio