help promote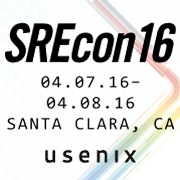 twitter
usenix conference policies
SRE Hiring
Abstract:
Hiring SREs can be one of the most challenging tasks an organization can undertake. This talk will discuss best practices around recruiting, evaluating and hiring SREs into your organization. During this talk we will explore how to do this from first principles, what best practices tend to be, and how we applied them when building the foundation of SRE at Dropbox.
Andrew leads the SRE teams at Dropbox. Prior to Dropbox, he worked at YouTube, helping to scale their infrastructure. He was previously at AOL running proxy/cache and video search infrastructure.
Open Access Media
USENIX is committed to Open Access to the research presented at our events. Papers and proceedings are freely available to everyone once the event begins. Any video, audio, and/or slides that are posted after the event are also free and open to everyone. Support USENIX and our commitment to Open Access.
BibTeX
@conference {208898,
author = {Andrew Fong},
title = {{SRE} Hiring},
year = {2015},
address = {Santa Clara, CA},
publisher = {USENIX Association},
month = mar
}

Presentation Video
Presentation Audio