help promote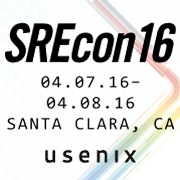 twitter
usenix conference policies
Panel: The Weeping Angels of Site Reliability
Kurt Andersen, LinkedIn; Ryan Boyd, Groupon; Pete Cheslock, Threat Stack; Mark Risher, Google; Cory Scott, LinkedIn; Jamie Tomasello, AccessNow.Org
Abstract:
Site reliability is not just about keeping your service running, users clicking, and transactions humming along. Your service does not end at your network interconnect. Reliability has to include principles and practices of safe computing for your users, their data, and all of the other systems that your site connects to. Bake security in from the beginning to protect your site, your users, and user data from an increasing array of assailants: DevOps needs InfoSec too.
Threats to the stability of a service can come from poor code, unreliable hardware, or bad network or power connections, but they also come from people who want to exploit the power and resources which you have accumulated to operate and grow your site. Hardware failures and other random acts of nature will test the abilities of your operations teams, but they do not present the same threat as a sentient enemy. And any site with resources of value will have intelligent, resourceful predators. If you haven't seen them, you are not looking in the right places.
This panel of experienced anti-abuse and security experts will cover the threat space for services, from fraudulent accounts to nation state actors who want your user's data, to scammers who want to use your infrastructure to wreak havoc on other portions of the internet ecosystem. Learn about developing a data security action plan for your site.
Join us for an adventure to foil the dark side, and be careful not to blink.
Kurt Andersen has been active in the anti-abuse community for over 15 years and currently leads the Growth and Comm SRE team at LinkedIn, as well as serving as one of the Program Committee Chairs for the Messaging, Malware and Mobile Anti-Abuse Working Group (M3AAWG). He has spoken at M3AAWG, Velocity, and SANOG on various aspects of reliability, authentication and security.
Ryan Boyd manages the global email delivery team at Groupon, which is responsible for email delivery in 48 countries around the world. Ryan's team integrates within the engineering and marketing organizations at Groupon to maintain industry-leading deliverability rates through establishing and maintaining best practices for email delivery and security.
Pete Cheslock is the head of Threat Stack's operations and support teams. He has over 15 years' experience in DevOps, and understands the challenges and and issues faced by security, development and operations professionals every day, and how we can help deal with them.
Mark Risher runs the Spam & Abuse team at Google, protecting services across the company from attacks of all kinds. Previously, he was CEO and Co-Founder of Impermium (which Google acquired in 2014), and "Spam Czar" at Yahoo! He has regularly presented worldwide to government, industry, and the media about spam, abuse and cyber security issues.
Cory Scott​ joined LinkedIn in 2013 and currently leads the House Security team, which is responsible for application and infrastructure security across all of LinkedIn. Prior to joining LinkedIn, he was the director of Matasano Security, an information security consultancy. He has spoken at BlackHat, USENIX LISA, SANS, and OWASP.
Jamie Tomasello is the technology director at AccessNow.Org, an international human rights organization dedicated to defending the digital rights of at-risk users. Jamie has been combating Internet abuse and addressing policy issues for more than the past 13 years. With a background in applied behavior analysis and pattern recognition, Jamie has focused her efforts in analyzing technical data points underlying cybercrime, identifying non-obvious data relationships, and profiling cybercriminals.
Open Access Media
USENIX is committed to Open Access to the research presented at our events. Papers and proceedings are freely available to everyone once the event begins. Any video, audio, and/or slides that are posted after the event are also free and open to everyone. Support USENIX and our commitment to Open Access.
BibTeX
@conference {208882,
author = {Kurt Andersen and Ryan Boyd and Pete Cheslock and Mark Risher and Cory Scott and Jamie Tomasello},
title = {Panel: The Weeping Angels of Site Reliability},
year = {2015},
address = {Santa Clara, CA},
publisher = {USENIX Association},
month = mar,
}

Presentation Video
Presentation Audio