help promote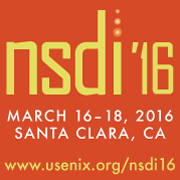 Get more
Help Promote graphics!
twitter
usenix conference policies
PhyCloak: Obfuscating Sensing from Communication Signals
Authors:
Yue Qiao, Ouyang Zhang, Wenjie Zhou, Kannan Srinivasan, and Anish Arora, The Ohio State University
Awarded Best Student Paper
Abstract:
Recognition of human activities and gestures using preexisting WiFi signals has been shown to be feasible in recent studies. Given the pervasiveness of WiFi signals, this emerging sort of sensing poses a serious privacy threat. This paper is the first to counter the threat of unwanted or even malicious communication based sensing: it proposes a blackbox sensor obfuscation technique PhyCloak which distorts only the physical information in the communication signal that leaks privacy. The data in the communication signal is preserved and, in fact, the throughput of the link is increased with careful design. Moreover, the design allows coupling of the PhyCloak module with legitimate sensors, so that their sensing is preserved, while that of illegitimate sensors is obfuscated. The effectiveness of the design is validated via a prototype implementation on an SDR platform
Open Access Media
USENIX is committed to Open Access to the research presented at our events. Papers and proceedings are freely available to everyone once the event begins. Any video, audio, and/or slides that are posted after the event are also free and open to everyone. Support USENIX and our commitment to Open Access.
BibTeX
@inproceedings {194988,
author = {Yue Qiao and Ouyang Zhang and Wenjie Zhou and Kannan Srinivasan and Anish Arora},
title = {{PhyCloak}: Obfuscating Sensing from Communication Signals},
booktitle = {13th USENIX Symposium on Networked Systems Design and Implementation (NSDI 16)},
year = {2016},
isbn = {978-1-931971-29-4},
address = {Santa Clara, CA},
pages = {685--699},
url = {https://www.usenix.org/conference/nsdi16/technical-sessions/presentation/qiao},
publisher = {USENIX Association},
month = mar
}

Presentation Audio