Exhibitor Services Provided By TriCord
Download the Exhibitor Services Manual | Phone +1 831 883-8600 | Email: orders@tricord.net
Important Dates and Deadlines
OnArrival Lead Capture Device Discount Deadline: September 29
Hotel Discount Deadline: October 7
Early Bird Registration Deadline: October 7
USENIX Directory Ad Deadline: October 7
TriCord Rental Discount Deadline: October 14
TriCord Graphics Deadline: October 14
Monitor Rental Discount Deadline: October 18
TriCord Advance Freight Receiving Opens: September 20
TriCord Advance Freight Receiving Deadline: October 23 October 21 by 3PM PDT
NEW!
Your sponsorship includes the option to provide a 2D insert or one-piece collateral item in the LISA19 Conference bag. Please read through the detailed instructions below to help on-site USENIX staff locate your shipment to best ensure your insert makes it into the bag.

1. Let sponsorship@usenix.org know if will/won't be sending an insert item
2. Let us know what the collateral item will be.
3. Send 600 count
5. CLEARLY label the bag insert shipment with the headline: BAG INSERTS/LISA19.
6. Once shipped, reply back to this email once more with your tracking numbers for the bag inserts.
Things to note:
When possible, please keep this shipment separate from any booth shipments to avoid confusion.
We do not need to know your tracking numbers for booth items, we only need to know tracking numbers for bag inserts. USENIX will handle the bag inserts, while TriCord will handle all other boxes.
All boxes look similar and we appreciate your careful detailing of this shipment.
If your collateral item is coming from a third-party, they should be aware of the steps outlined above and comply where possible.
Expo Hours
Monday, October 28: 12:00 PM - 7:00 PM
Tuesday, October 29: 10:00 AM - 2:00 PM
Exhibitor Move In (subject to change)
Sunday, October 27: 12:00 PM - 5:00 PM
Monday, October 28: starting at 7:00 AM until Expo opens at noon
Exhibitor Move Out
Tuesday, October 29: 2:00 PM - 3:30 PM
All exhibitor ordered freight carriers must be checked in by 3:00 PM for freight pick up.
All advance freight will be delivered to your booth space prior to exhibitor move in to expedite your set up.
All orders received before the discount deadline will receive the discount rates. Orders that are not sent in by the discount deadline will receive the standard rates. Contact TriCord with questions and for more details at orders@tricord.net
Exhibitor Benefits and Services
Up to five exhibitor-only badges, with access to the Expo for installation and show hours, plus access to lunches while staffing booth
Company logo, link, and description displayed on the LISA19 sponsors and exhibitors page
Company name, URL, and description in the conference directory and/or in the conference mobile app
Company logo on the Expo Passport
Expo booth which includes electrical and WiFi access
Booth Details
10' W x 10' D space includes:
8' H black draped back wall, 3' H draped side rail
6' draped table, 2 chairs
Wastebasket
7" x 44" Booth ID sign: Company name in black text, one-line
Please be advised: Ceiling height is 9 feet high.
Shipping
Please refer to the Exhibitor Services Manual, pages 4-9 for details on shipping, material handling fees, and union regulations
Internet
USENIX provides free WiFi access to all our LISA19 attendees and exhibitors. We cannot guarantee the quality and seamless connectivity in the Expo area and we strongly recommend that all exhibitors who will need internet access for demos or displays, order an ethernet drop from the provider. Please see the exhibitor services manual for details. You may find the order form here.
Electrical
All booths are equipped with access to an electric drop. If you require additional service, the exhibitor services manual contains the electrical order forms on the last few pages of the kit.
Monitor Rental
These can be ordered in advance here.
Lead Retrieval
Download the OnArrival Lead Capture order form. Exhibitors have the option to use the app on their device or rent a physical device. If renting a device, note that the price increases after the discount deadline of September 29.
*Exhibitors who will be using lead scanning app on their own device should make sure they are queued up in the Cvent platform with the app already downloaded on your mobile, and make sure the admin for your Cvent account adds the onsite point-person as such and then assigns the license to that person. See the Cvent Lead Capture order form for instructions and contact them with any questions on how to get your team set up.
USENIX Graphics (Directory Ads)
Graphics Resources and Submission Guidelines: Due October 7, 2019
If your sponsorship includes the option for a grayscale ad in the conference directory and you received an email regarding this option, please submit all graphics for your advertisement in the conference directory to lisa_ads@usenix.org
Preferred formats: PDF, TIFF, AI, or EPS
All art must be grayscale. No CMYK, RGB, or LAB color spaces allowed.
All raster images must be 300 dpi.
PDF files must have all fonts embedded.
AI and EPS files must have all fonts outlined.
Directory ads template can be downloaded here.
Help Promote LISA19 and Your Company's Booth!
Spread the word to your community that you will be exhibiting at LISA19. Be sure to use the official hashtag #lisa19 on social media.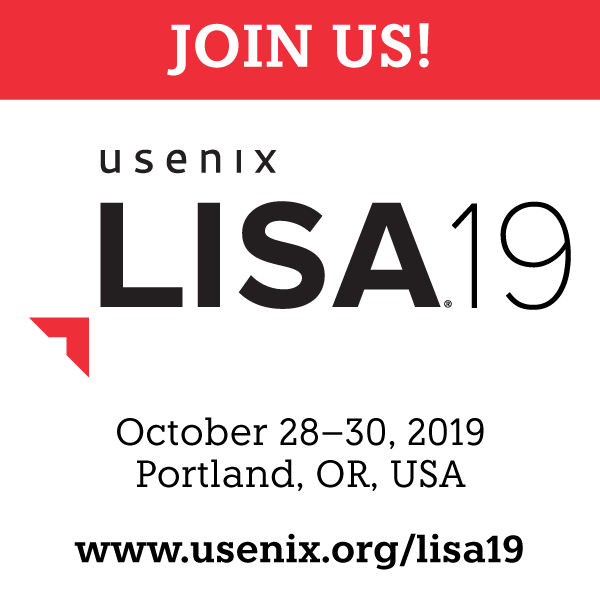 Size: 600x600 pixels
Exhibiting Staff Registration
Vendor/Exhibitor-only Registration
Your booth comes with exhibitor badges for booth staff. Register staff for your booth and select Exhibitor as the registration type. Exhibitor-only badges are required for those staffing a booth. One person may register all staffers or each exhibitor may register themselves here.
Exhibitor-only badges are separate entities from conference passes or any sponsor passes that may be part of your sponsorship.