help promote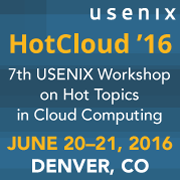 twitter
usenix conference policies
Low-Profile Source-side Deduplication for Virtual Machine Backup
Authors:
Daniel Agun and Tao Yang, University of California, Santa Barbara; Wei Zhang, Pure Storage Inc.
Abstract:
This paper presents a source-side backup scheme with low-resource usage through collaborative deduplication and approximated lazy deletion when frequent virtual machine snapshot backup is required in a large-scale cloud cluster. The key ideas are to orchestrate multiround duplicate detection batches among machines in a partitioned asynchronous manner and remove most unreferenced content chunks with approximated snapshot deletion. This paper discusses the challenges, main design and strategies, and evaluation results.
Open Access Media
USENIX is committed to Open Access to the research presented at our events. Papers and proceedings are freely available to everyone once the event begins. Any video, audio, and/or slides that are posted after the event are also free and open to everyone. Support USENIX and our commitment to Open Access.
BibTeX
@inproceedings {196344,
author = {Daniel Agun and Tao Yang and Wei Zhang},
title = {{Low-Profile} Source-side Deduplication for Virtual Machine Backup},
booktitle = {8th USENIX Workshop on Hot Topics in Cloud Computing (HotCloud 16)},
year = {2016},
address = {Denver, CO},
url = {https://www.usenix.org/conference/hotcloud16/workshop-program/presentation/agun},
publisher = {USENIX Association},
month = jun
}