Birds-of-a-Feather Sessions (BoFs)
Tuesday, Wednesday, and Thursday evenings, June 20-22
Linus Torvalds returns to the USENIX Annual Technical Conference to host a Thursday night Birds-of-a-Feather Session.
Lead or attend a BoF! Meet with your peers! Present new work! Don't miss these special activities designed to maximize the value of your time at the conference.
It is not too late to schedule a BoF session. Contact the USENIX Conference Office at conference@usenix.org or telephone 1.949.588.8649 to make arrangements.
Tuesday, June 20
6-7 pm
An Update on Standards
Nick Stoughton, USENIX Standards Liaison
Unmitigated Perl
Gurusamy Sarathy, Active State
6-8 pm
Active Content: UNIX Based Protection for a Windows Virus World
David Perry, Trend Micro
CERT/CC Incident and Vulnerability Update
Cory Cohen, CERT/CC
7-8 pm
Sendmail Meets Perl
Gurusamy Sarathy, ActiveState; Jeff Radice, Sendmail
7-9 pm
Workplace Issues for Lesbian, Gay, Bisexual, Transgendered Sysadmins & Friends
Chris Josephes, Onvoy
Wednesday, June 21
7-8 pm
Automated Backup Integration: Solutions & Ideas
Dave Hiechel, Eagle Software
NetBSD
Charles Hannum
SAGE BoF
Peg Schafer, SAGE Executive Committee
The GNU BoF
Bradley Kuhn, The Free Software Foundation
Embedded Linux
Matt Ramsay, Moreton Bay
7-9 pm
NAS & SAN: Will the Twain Meet
Uresh Vahalia, EMC
AFS, Kerberos, and Distributed Infrastructures
Stephen Wynne, CMU; Garry Zacheiss, MIT
*X on Handhelds
Jim Gettys, Compaq
8-9 pm
To GUI or not to GUI: Issues in Firewall Configuration Tools
Avishai Wool, Lucent Technologies
Gorilla Warfare - Operations Guide to Successful Internet Deployment
Suzanne George, AOL
Multithreading: Issues in Concurrency
Bil Lewis, Lambda Computer Science
OpenBSD
Theo de Raadt, OpenBSD Project
Sun-Manager's BOF
John DiMarco, University of Toronto
8-10 pm
Kernel I/O Buffers
Martin K. Petersen, Linuxcare, Inc.
9-10 pm
Plan 9/Brazil/Inferno
Scott Schwartz, Penn State
FreeBSD
Jordan Hubbard, BSDI
10-11 pm
Berkeley Software Design, Inc.
Paul Borman, BSDI
Thursday, June 22
8:15 pm
Linux
Linux Torvalds, Transmeta
9 pm
Oldtimer's BoF
Greg Rose, QUALCOMM Australia
Hey, it's USENIX's 25th anniversary celebration, and about 30 years of UNIX! Have you noticed that there are lots of people hanging around who look like they were using it 25 years ago? Come and join the other "Old Farts", or if you're a young one, come meet and hear some amusing remeniscences from the old ones.
Social Activities
Meet the conference speakers and connect with your peers in the community.
Welcome Reception
Sunday, June 18, 6:00 pm-7:00 pm
Conference Orientation
Sunday, June 18, 7:00 pm-8:00 pm
Happy Hour at the Exhibition
Wednesday, June 21, 5:30 pm-7:00 pm
25th Anniversary Reception
Thursday, June 22, 6:00 pm-8:00 pm

Work in Progress Reports (WiPs)
Thursday, June 22, 4:00 pm - 5:30 pm
Short, pithy, and fun, Work in Progress reports introduce interesting new or ongoing work. If you have work you would like to share or a cool idea that's not quite ready for publication, send a one- or two-paragraph summary to usenix2000-wips@usenix.org. We are particularly interested in presenting students' work. A schedule of presentations will be posted at the conference, and the speakers will be notified in advance. Work in Progress reports are five-minute presentations; the time limit will be strictly enforced.
Dr. Dobbs will be videotaping conference sessions for presentation on their Web site. Visit them at https://www.technetcast.com/.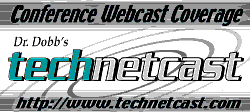 Win a Pet Shark! A Contest for Open-Source Projects
Win one of ten classic StrongARM-powered Network Computers, affectionately known as "Sharks." These NCs run NetBSD and include all sorts of I/O ports (but you'll have to supply your own monitor, keyboard, mouse, and peripherals.)
Who will win?
If you have a great idea on how to use this computer, you could be one of 10 winners. Simply answer the question: "What I would do with my own pet Shark?" Our panel of judges will select the 10 best entries to win.
How do I enter the contest?
Entry forms will be included in the registration packets, and must be submitted by 12:30 PM on Thursday, June 22. Please read the fine print on the entry forms! You must be a registered attendee of the USENIX Annual Technical Conference in order to qualify. Register today!
Find out more about the Shark at https://research.compaq.com/SRC/iag/.
USENIX Celebrates Our 25th Anniversary
Ever seen a 3B2 computer?
What do UUNET and USENIX have in common?
When did USENIX go international?
Find the answers to these questions at our 25th Anniversary Museum Collection. Featuring collectables from USENIX members and AT&T Archives, see the hardware, memorabilia, photographs, videos and more that embody USENIX's growth from the 'good ole days' through today. The collection will be on display from Tuesday to Friday by the Exhibition Hall. See where we've been, what we've done and where we're heading in the next 25 years.