help promote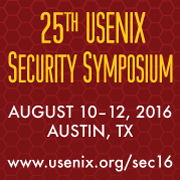 Get more
Help Promote graphics!
twitter
usenix conference policies
Overview
Thanks for joining us in Washington, D.C., for the 24th USENIX Security Symposium (USENIX Security '15). We hope you enjoyed the event. As part of our commitment to open access to research, the full Proceedings, video and audio recordings, and presentation slides are available on the technical sessions page.
Save the Date:
USENIX Security '16
August 10-12, 2016
Austin, TX
The following co-located workshops preceded the Symposium:
Symposium Organizers
Program Chair
Jaeyeon Jung, Microsoft Research
Deputy Program Chair
Thorsten Holz, Ruhr-Universität Bochum
Program Committee
Sadia Afroz, University of California, Berkeley
Davide Balzarotti, Eurecom
Sasha Boldyreva, Georgia Institute of Technology
Joseph Bonneau, Stanford University and Electronic Frontier Foundation
Nikita Borisov, University of Illinois at Urbana-Champaign
David Brumley, Carnegie Mellon University
Kevin Butler, University of Florida
Juan Caballero, IMDEA Software Institute
Srdjan Capkun, ETH Zürich
Stephen Checkoway, University of Illinois at Chicago
Nicolas Christin, Carnegie Mellon University
Byung-Gon Chun, Seoul National University
George Danezis, University College London
Tamara Denning, University of Utah
Adam Doupé, Arizona State University
Josiah Dykstra, NSA Research
Manuel Egele, Boston University
Serge Egelman, University of California, Berkeley, and International Computer Science Institute
William Enck, North Carolina State University
David Evans, University of Virginia
Matt Fredrikson, University of Wisconsin—Madison
Roxana Geambasu, Columbia University
Rachel Greenstadt, Drexel University
Guofei Gu, Texas A&M University
Alex Halderman, University of Michigan
Nadia Heninger, University of Pennsylvania
Susan Hohenberger, Johns Hopkins University
Jean-Pierre Hubaux, École Polytechnique Fédérale de Lausanne (EPFL)
Cynthia Irvine, Naval Postgraduate School
Rob Johnson, Stony Brook University
Brent Byunghoon Kang, Korea Advanced Institute of Science and Technology (KAIST)
Taesoo Kim, Georgia Institute of Technology
Engin Kirda, Northeastern University
Tadayoshi Kohno, University of Washington
Farinaz Koushanfar, Rice University
David Lie, University of Toronto
Janne Lindqvist, Rutgers University
Long Lu, Stony Brook University
Stephen McCamant, University of Minnesota
Damon McCoy, New York University
Sarah Meiklejohn, University College London
David Molnar, Microsoft Research
Tyler Moore, Southern Methodist University
Nick Nikiforakis, Stony Brook University
Cristina Nita-Rotaru, Purdue University
Zachary N. J. Peterson, California Polytechnic State University
Michalis Polychronakis, Stony Brook University
Adrienne Porter Felt, Google
Georgios Portokalidis, Stevens Institute of Technology
Benjamin Ransford, University of Washington
Thomas Ristenpart, University of Wisconsin—Madison
Will Robertson, Northeastern University
Franziska Roesner, University of Washington
Nitesh Saxena, University of Alabama at Birmingham
Prateek Saxena, National University of Singapore
R. Sekar, Stony Brook University
Hovav Shacham, University of California, San Diego
Micah Sherr, Georgetown University
Elaine Shi, University of Maryland, College Park
Reza Shokri, The University of Texas at Austin
Cynthia Sturton, The University of North Carolina at Chapel Hill
Patrick Traynor, University of Florida
Ingrid Verbauwhede, Katholieke Universiteit Leuven
Giovanni Vigna, University of California, Santa Barbara
David Wagner, University of California, Berkeley
Ralf-Philipp Weinmann, Comsecuris
Xiaoyong Zhou, Samsung Research America
Invited Talks Chair
Invited Talks Committee
Michael Bailey, University of Illinois at Urbana-Champaign
Damon McCoy, New York University
Poster Session Co-Chairs
Adam Doupé, Arizona State University
Sarah Meiklejohn, University College London
Work-in-Progress Reports (WiPs) Coordinator
Tadayoshi Kohno, University of Washington
Steering Committee
Matt Blaze, University of Pennsylvania
Dan Boneh, Stanford University
Kevin Fu, University of Michigan
Casey Henderson, USENIX Association
Tadayoshi Kohno, University of Washington
David Wagner, University of California, Berkeley
Dan Wallach, Rice University