The SREcon21 event platform is provided by Swapcard. Your exhibit's admin will receive an invite to access the platform and an invite to a live Swapcard training session. Please refer to the important dates and deadlines section, which will be updated over the coming months.
Important Dates and Deadlines
August: Registration is open now!
September 21: Swapcard Exhibitor Onboarding/Live Training (10:00 am PDT)
September 21–October 1: Exhibit set-up in Swapcard
October 1: Booths ready for soft opening
October 6: Conference soft opens to attendees and exhibits will be open!
October 6: Registration deadline to attend with your Sponsor Pass(es)
October 12: Conference begins
October 14: Conference ends
Showcase Hours
The Showcase will be open for the duration of the event and for one week prior. We recommend having your exhibit staffed during the 2 breaks each day and before/after sessions to allow attendees in different time-zones the best opportunity to connect with you. The option for attendees to schedule appointments with sponsors will also be available. Please see THIS GRID VIEW SCHEDULE.
Daily Tuesday through Thursday:
9:00–9:30 am PDT Session Break, Showcase open
11:30–1:30 pm PDT Session end, Showcase and sponsor sessions open
3:00–5:00 pm PDT Showcase and sponsor sessions open prior to sessions beginning
8:00–8:30 pm PDT Session Break, Showcase open (7:45-8:15 pm on Thursday)

UTC
8:00 pm
10:30 pm
11:30 pm
12:00-2:00 am
2:00 am
3:00 am
4:00 am
AEST
2:00 am
4:30 am
5:30 am
6:00-8:00 am
8:00 am*
9:00 am*
10:00 am*
SGT
12:00 am
2:30 am
3:30 am
4:00-6:00 am
6:00 am
7:00 am*
8:00 am*
EDT
12:00 pm
2:30 pm
3:30 pm
3:00-5:00 pm
6:00 pm
7:00 pm
8:00 pm
PDT
9:00-9:30 am break
11:30 am
12:30 pm
1:00-3:00 pm
3:00 pm
4:00 pm
5:00 pm
8:00-8:30 pm break
Showcase
Showcase
Showcase open
BREAK
Showcase open
Showcase
Sponsor
Events
Sponsor Event
Sponsor Event
Sponsor Event
Sponsor Event
Sponsor Event

* Denotes following day

Exhibitor-only Registration

Exhibit includes staff access. Your exhibit admin will manage and assign roles and staff.
Exhibitors will log into Swapcard with a magic link originating from noreply@swapcard.com. Please add this address to your safe list so it doesn't end up in your spam folder.
If you are attending the conference, you can also staff your exhibit space without registering separately as an exhibitor. The booth admin can add attendees to booth staff at their discretion.

Swapcard Training and Onboarding Session (September 21, 2021, 10:00 am PDT)

Learn how to use the platform. Session hosted by USENIX in collaboration with Swapcard's experts.
Get your questions answered by Swapcard and start building your virtual exhibit.
Invites will be emailed to you soon! More information to come.
Exhibit/Booth Graphics
Gold and Silver Exhibitors

Logo: 400x200px (2:1 ratio) image, no larger than 1MB
Header (choose an option below):

Static Header: 1200x675px (16:9 ratio) image, no larger than 1MB
Video Header: Can be pre-recorded and hosted on YouTube, Vimeo, or any other provider. You'll choose the provider and paste the id or SRC link into Swapcard

Branded/Custom Background: 2560x1600px (16:10 ratio) image, no larger than 1MB
Optional: Ability to hold video chats (group or 1:1)
Gold Only:

Up to 1-hour for a Sponsor Event, to be scheduled in coordination with USENIX once the SREcon21 program is publicly posted
Up to 10 pieces of collateral (Documents/PDFs, external links)

Silver Only:

Up to 6 pieces of collateral (Documents/PDFs, external links)

Bronze Exhibitors

Logo: 400x200 (2:1 ratio image, no larger than 1MB
Static Header: 1200x675px (16:9 ratio) image, no larger than 1MB
Up to 3 pieces of collateral (Documents/PDFs, external links)

All Exhibitors

Upload collateral (see quantity per level), hold an in-booth raffle, receive messages, chat with attendees in the booth, and network
Include a company bio, staff contact information, and social media links
Receive complimentary registrations per contract/level to access the exhibit space
Appoint an admin for your exhibit, or multiple admins
Content above is subject to updates. Please check back frequently.
Sponsor Events Information
If your company is sponsoring at Gold and above, you have the option to host a Sponsor Event to be held during the extended break between the official program's talks on the available day and time of your choosing. Please visit: https://www.usenix.org/sites/default/files/conference-files/srecon21_sch... to see the grid view of the schedule before making your selections. While you can use a full hour, we recommend keeping it to 45 minutes for best retention and engagement. The sponsor event can be held using your own tools such as Zoom, Blue Jeans, or similar. Sponsorship will contact you directly about scheduling your event and these will be published to the website soon!
Help Promote SREcon21 and Your Company's Booth!
Spread the word to your community that you will be exhibiting at SREcon21. Be sure to use the official hashtag #SREcon on social media.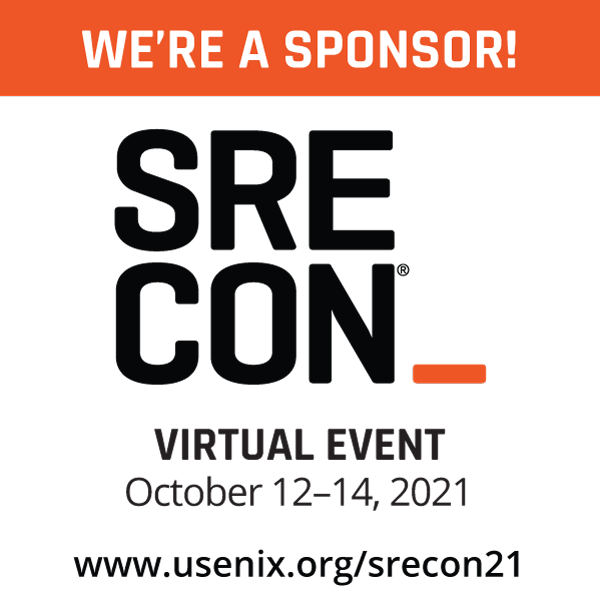 Size: 600x600 pixels