Welcome to all PEPR '23 speakers! We're so glad that you'll be joining us in Santa Clara, CA, USA.
Contact
If you have questions or concerns, please contact conference@usenix.org or your Program Co-Chairs, Divya Sharma and Blase Ur, pepr23chairs@usenix.org.
To-Do List
Sign your Consent to Publish form.
USENIX requires a signed consent form from all presenters, which allows us to publish the audio, slides, and/or video of your talk. USENIX makes these freely available to the public as part of our commitment to open access. Please review and e-sign the PEPR '23 Consent Form for Talks and Panels. If your company requires that you sign its speaker release form instead, please send the completed version to consent@usenix.org.
Register for the conference.
The USENIX Conference Department will contact you with instructions for registering online. More information about our health and safety plan is available on the Coronavirus/COVID-19 and USENIX Conferences page.
Get your visa, if necessary.
If you need an invitation letter to apply for a United States visa to attend the conference in person, please contact the Conference Department as soon as possible. Visa applications are reportedly taking more than two months to process. Please identify yourself as a presenter or an author, and include your mailing address in your email request.
Read the USENIX Code of Conduct.
Please ensure your talk follows the guidelines outlined in the USENIX Code of Conduct.
Prepare your slide deck.
Slides should be set up for a 16:9 aspect ratio. Slides should be set up for a 16:9 aspect ratio. Note that USENIX events may take place in large spaces. Please consider how text and images will appear from the back of the room. Small text and fine detail in graphical elements will be difficult for attendees to read. Do not overcrowd your slides, and be sure to leave the upper-right corner blank for on-site display purposes.
Check your materials for copyrighted images, audio, and video.
It is very important that you secure permission to use copyright-protected materials in your slide deck, video, or other materials used at a conference or submitted for publication. Even when an item has a Creative Commons license, you must read and comply with the terms of the license.

USENIX receives copyright infringement notices from time to time, resulting from authors or speakers using copyright-protected materials without proper licensing or attribution. When this happens, we have to unpublish the work in question until/unless the issue is resolved. Licensing fees may be incurred, even when the work is unpublished, and USENIX will bill the author or speaker for any costs incurred. When possible, USENIX will refer the complainant directly to the author or speaker, who will be solely responsible for resolving the complaint.
A/V and Technical Setup.
USENIX provides a projection screen and projector, plus the following:


1 wireless microphone.
Cables and extension cords: HDMI is provided for connecting your laptop to the projection system. Please check your device ahead of time and bring any special adapters you might need, including for Mini-Displayport or USB-C.
Laptops are not provided.

Email your slides (after the conference).
In order to make your talk available on the program web page immediately after the conference, please email a PDF of your slides to slides@usenix.org as soon as possible after your presentation.
Promote Yourself and the Event on Social Media!
Please help us promote the conference on social media with the #pepr23 hashtag. Our attendees come from around the world to learn from you, so here's your chance to get people excited about your session. We've posted some graphics below which you're welcome to use.
Suggested Tweets
I'm speaking at #pepr23 in Santa Clara, September 11–12, 2023. Join me! http://bit.ly/pepr2023
Join me at #pepr23 in Santa Clara, September 11–12, 2023! http://bit.ly/pepr2023
Graphics
Feel free to use the banners below to promote your session at PEPR '23. Contact communications@usenix.org if you need a different size.
I'm Speaking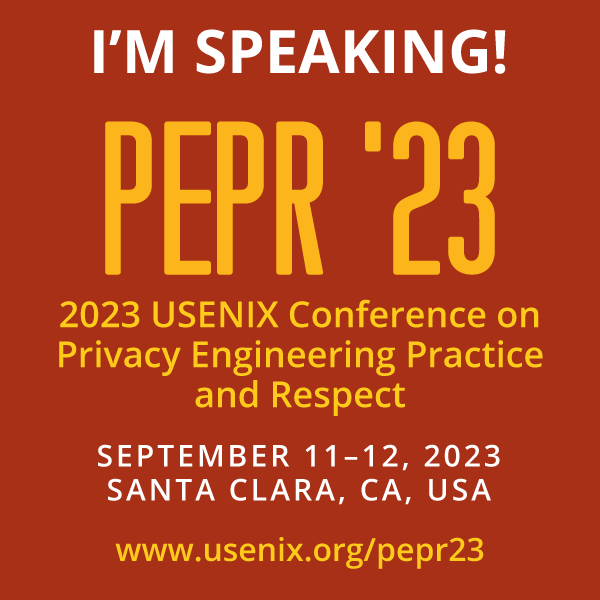 Size: 600x600 pixels
Join Me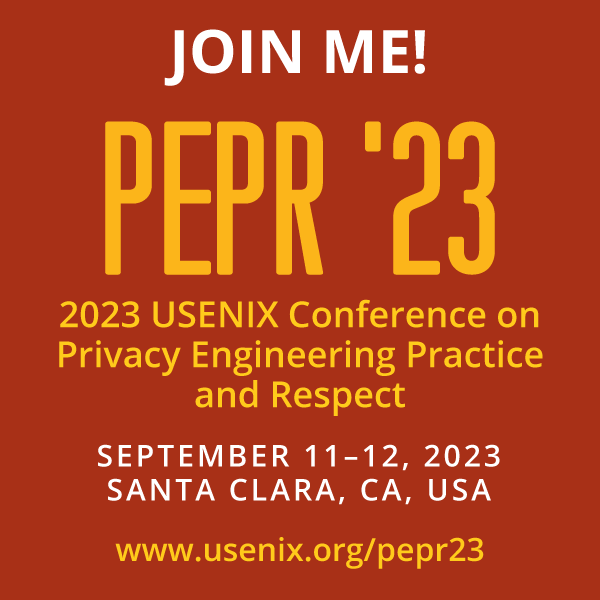 Size: 600x600 pixels