help promote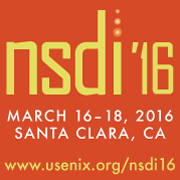 Get more
Help Promote graphics!
twitter
usenix conference policies
Overview
Thanks to everyone who joined us in Santa Clara, CA, for NSDI '16. As part of our commitment to open access to research, the full Proceedings, audio recordings, and presentation slides are available on the NSDI '16 Technical Sessions page.
Save the Date:
NSDI '17
March 27–March 29, 2017
Boston, MA
Co-located Events
The following events were co-located with NSDI '16:
Conference Organizers
Program Co-Chairs
Program Committee
Aditya Akella, University of Wisconsin—Madison
Mohammad Alizadeh, Massachusetts Institute of Technology
Hari Balakrishnan, Massachusetts Institute of Technology
Mahesh Balakrishnan, Yale University
Aruna Balasubramanian, Stony Brook University
Paul Barford, University of Wisconsin—Madison and comScore
Ranjita Bhagwan, Microsoft Research India
Paolo Costa, Microsoft Research
Paul Francis, Max Planck Institute for Software Systems (MPI-SWS)
Monia (Manya) Ghobadi, Microsoft Research
Shyam Gollakota, University of Washington
Kyle Jamieson, Princeton University
Srikanth Kandula, Microsoft
Brad Karp, University College London
S. Keshav, University of Waterloo
Changhoon Kim, Barefoot Networks
Ramakrishna Kotla, Amazon
Jinyang Li, New York University
David Lie, University of Toronto
Kate C.-J. Lin, Academia Sinica, Taiwan
Wyatt Lloyd, University of Southern California
Jay Lorch, Microsoft Research
Ratul Mahajan, Microsoft Research
Prateek Mittal, Princeton University
Thomas Moscibroda, Microsoft Research
David Oran, Cisco Systems
Oriana Riva, Microsoft Research
Vyas Sekar, Carnegie Mellon University
Siddhartha Sen, Microsoft Research
Srinivasan Seshan, Carnegie Mellon University
Jonathan Smith, University of Pennsylvania
Alex Snoeren, University of California, San Diego
Kobus Van der Merwe, University of Utah
Laurent Vanbever, ETH Zürich
Poster Session Co-Chairs
Aruna Balasubramanian, Stony Brook University
Laurent Vanbever, ETH Zürich
Steering Committee
Nick Feamster, Princeton University
Casey Henderson, USENIX Association
Arvind Krishnamurthy, University of Washington
Brian Noble, University of Michigan
Jennifer Rexford, Princeton University
Alex C. Snoeren, University of California, San Diego