help promote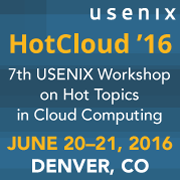 twitter
usenix conference policies
You are here
Home
»
HyperOptics: A High Throughput and Low Latency Multicast Architecture for Datacenters
HyperOptics: A High Throughput and Low Latency Multicast Architecture for Datacenters
Authors:
Dingming Wu, Xiaoye Sun, Yiting Xia, Xin Huang, and T. S. Eugene Ng, Rice University
Abstract:
Multicast has long been a performance bottleneck for data centers. Traditional solutions relying on IP multicast suffer from poor congestion control and loss recovery on the data plane, as well as slow and complex group membership and multicast tree management on the control plane. Some recent proposals have employed alternate optical circuit switched paths to enable lossless multicast and a centralized control architecture to quickly configure multicast trees. However, the high circuit reconfiguration delay of optical switches has substantially limited multicast performance.
In this paper, we propose to eliminate this reconfiguration delay by an unconventional optical multicast architecture called HyperOptics that directly interconnects top of rack switches by low cost optical splitters, thereby eliminating the need for optical switches. The ToRs are organized to form the connectivity of a regular graph. We analytically show that this architecture is scalable and efficient for multicasts. Preliminary simulations show that running multicasts on HyperOptics can on average be 2.1x faster than on an optical circuit switched network.
Open Access Media
USENIX is committed to Open Access to the research presented at our events. Papers and proceedings are freely available to everyone once the event begins. Any video, audio, and/or slides that are posted after the event are also free and open to everyone. Support USENIX and our commitment to Open Access.
BibTeX
@inproceedings {196326,
author = {Dingming Wu and Xiaoye Sun and Yiting Xia and Xin Huang and T. S. Eugene Ng},
title = {{HyperOptics}: A High Throughput and Low Latency Multicast Architecture for Datacenters},
booktitle = {8th USENIX Workshop on Hot Topics in Cloud Computing (HotCloud 16)},
year = {2016},
address = {Denver, CO},
url = {https://www.usenix.org/conference/hotcloud16/workshop-program/presentation/wu},
publisher = {USENIX Association},
month = jun
}