help promote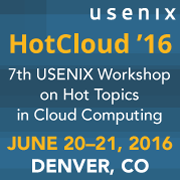 twitter
usenix conference policies
Neutrality in Future Public Clouds: Implications and Challenges
Authors:
George Kesidis, Bhuvan Urgaonkar, Neda Nasiriani, and Cheng Wang, The Pennsylvania State University
Abstract:
With public cloud providers poised to become indispensable utility providers, neutrality-related mandates will likely emerge to ensure a level playing field among their customers ("tenants"). We analogize with net neutrality to discuss: (i) what form cloud neutrality might take, (ii) what lessons might the net neutrality debate have to offer, and (iii) in what ways cloud neutrality would be different from (and even more difficult than) net neutrality. We use idealized thought experiments and simple workload case studies to illustrate our points and conclude with a discussion of challenges and future directions. Our paper points to a rich and important area for future work.
Open Access Media
USENIX is committed to Open Access to the research presented at our events. Papers and proceedings are freely available to everyone once the event begins. Any video, audio, and/or slides that are posted after the event are also free and open to everyone. Support USENIX and our commitment to Open Access.
BibTeX
@inproceedings {196340,
author = {George Kesidis and Bhuvan Urgaonkar and Neda Nasiriani and Cheng Wang},
title = {Neutrality in Future Public Clouds: Implications and Challenges},
booktitle = {8th USENIX Workshop on Hot Topics in Cloud Computing (HotCloud 16)},
year = {2016},
address = {Denver, CO},
url = {https://www.usenix.org/conference/hotcloud16/workshop-program/presentation/kesidis},
publisher = {USENIX Association},
month = jun,
}