help promote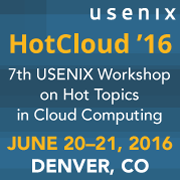 twitter
usenix conference policies
Graviton: Twisting Space and Time to Speed-up CoFlows
Authors:
Akshay Jajoo, Rohan Gandhi, and Y. Charlie Hu, Purdue University
Abstract:
In this paper, we make a key observation that using multiple priority queues and weighted fair sharing at each port, Aalo does a good job in approximating SJF, but it does so only at the queue-granularity, as using FIFO to schedule CoFlows in each queue is rather simplistic, and has no reminiscence of SJF.
Instead, we discuss three insights into Aalo's scheduler where exploiting the spatial dimension of the problem domain, i.e., the width (number of ports) of the CoFlows, can lead to better scheduling policies within each priority queue, improving the overall CCT.
Open Access Media
USENIX is committed to Open Access to the research presented at our events. Papers and proceedings are freely available to everyone once the event begins. Any video, audio, and/or slides that are posted after the event are also free and open to everyone. Support USENIX and our commitment to Open Access.
BibTeX
@inproceedings {196328,
author = {Akshay Jajoo and Rohan Gandhi and Y. Charlie Hu},
title = {Graviton: Twisting Space and Time to Speed-up {CoFlows}},
booktitle = {8th USENIX Workshop on Hot Topics in Cloud Computing (HotCloud 16)},
year = {2016},
address = {Denver, CO},
url = {https://www.usenix.org/conference/hotcloud16/workshop-program/presentation/jajoo},
publisher = {USENIX Association},
month = jun
}