help promote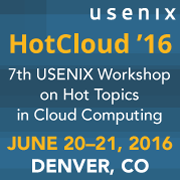 twitter
usenix conference policies
Serverless Computation with OpenLambda
Authors:
Scott Hendrickson, Stephen Sturdevant, and Tyler Harter, University of Wisconsin—Madison; Venkateshwaran Venkataramani; Andrea C. Arpaci-Dusseau and Remzi H. Arpaci-Dusseau, University of Wisconsin—Madison
Abstract:
We present OpenLambda, a new, open-source platform for building next-generation web services and applications in the burgeoningmodel of serverless computation. We describe the key aspects of serverless computation, and present numerous research challenges that must be addressed in the design and implementation of such systems. We also include a brief study of current web applications, so as to better motivate some aspects of serverless application construction.
Open Access Media
USENIX is committed to Open Access to the research presented at our events. Papers and proceedings are freely available to everyone once the event begins. Any video, audio, and/or slides that are posted after the event are also free and open to everyone. Support USENIX and our commitment to Open Access.
BibTeX
@inproceedings {196322,
author = {Scott Hendrickson and Stephen Sturdevant and Tyler Harter and Venkateshwaran Venkataramani and Andrea C. Arpaci-Dusseau and Remzi H. Arpaci-Dusseau},
title = {Serverless Computation with {OpenLambda}},
booktitle = {8th USENIX Workshop on Hot Topics in Cloud Computing (HotCloud 16)},
year = {2016},
address = {Denver, CO},
url = {https://www.usenix.org/conference/hotcloud16/workshop-program/presentation/hendrickson},
publisher = {USENIX Association},
month = jun
}