help promote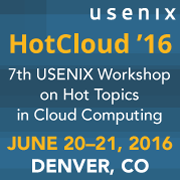 twitter
usenix conference policies
Ovid: A Software-Defined Distributed Systems Framework
Authors:
Deniz Altınbüken and Robbert van Renesse, Cornell University
Abstract:
We present Ovid, a framework for building evolvable large-scale distributed systems that run in the cloud. Ovid constructs and deploys distributed systems as a collection of simple components, creating systems suited for containerization in the cloud. Ovid supports evolution of systems through transformations, which are automated refinements. Examples of transformations include replication, batching, sharding, and encryption. Ovid transformations guarantee that an evolving system still implements the same specification. Moreover, systems built with transformations can be combined with other systems to implement more complex infrastructure services. The result of this framework is a software-defined distributed system, in which a logically centralized controller specifies the components, their interactions, and their transformations.
Open Access Media
USENIX is committed to Open Access to the research presented at our events. Papers and proceedings are freely available to everyone once the event begins. Any video, audio, and/or slides that are posted after the event are also free and open to everyone. Support USENIX and our commitment to Open Access.
BibTeX
@inproceedings {196320,
author = {Deniz Alt{\i}nb{\"u}ken and Robbert Van Renesse},
title = {Ovid: A {Software-Defined} Distributed Systems Framework},
booktitle = {8th USENIX Workshop on Hot Topics in Cloud Computing (HotCloud 16)},
year = {2016},
address = {Denver, CO},
url = {https://www.usenix.org/conference/hotcloud16/workshop-program/presentation/alt{\i}nbuken},
publisher = {USENIX Association},
month = jun
}