help promote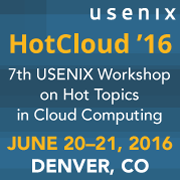 twitter
usenix conference policies
The Cloud is Not Enough: Saving IoT from the Cloud
Authors:
Ben Zhang, Nitesh Mor, John Kolb, Douglas S. Chan, Nikhil Goyal, Ken Lutz, Eric Allman, John Wawrzynek, Edward Lee, and John Kubiatowicz, University of California, Berkeley
Abstract:
The Internet of Things (IoT) represents a new class of applications that can benefit from cloud infrastructure. However, the current approach of directly connecting smart devices to the cloud has a number of disadvantages and is unlikely to keep up with either the growing speed of the IoT or the diverse needs of IoT applications.
In this paper we explore these disadvantages and argue that fundamental properties of the IoT prevent the current approach from scaling. What is missing is a wellarchitected system that extends the functionality of the cloud and provides seamless interplay among the heterogeneous components in the IoT space. We argue that raising the level of abstraction to a data-centric design—focused around the distribution, preservation and protection of information—provides a much better match to the IoT.We present early work on such a distributed platform, called the Global Data Plane (GDP), and discuss how it addresses the problems with the cloud-centric architecture.
Open Access Media
USENIX is committed to Open Access to the research presented at our events. Papers and proceedings are freely available to everyone once the event begins. Any video, audio, and/or slides that are posted after the event are also free and open to everyone. Support USENIX and our commitment to Open Access.
BibTeX
@inproceedings {190617,
author = {Ben Zhang and Nitesh Mor and John Kolb and Douglas S. Chan and Ken Lutz and Eric Allman and John Wawrzynek and Edward Lee and John Kubiatowicz},
title = {The Cloud is Not Enough: Saving {IoT} from the Cloud},
booktitle = {7th USENIX Workshop on Hot Topics in Cloud Computing (HotCloud 15)},
year = {2015},
address = {Santa Clara, CA},
url = {https://www.usenix.org/conference/hotcloud15/workshop-program/presentation/zhang},
publisher = {USENIX Association},
month = jul
}