help promote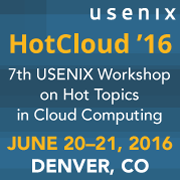 twitter
usenix conference policies
Provenance Issues in Platform-as-a-Service Model of Cloud Computing
Authors:
Devdatta Kulkarni, Rackspace and The University of Texas at Austin
Abstract:
In this paper we present provenance issues that arise in building Platform-as-a-Service (PaaS) model of cloud computing. The issues are related to designing, building, and deploying of the platform itself, and those related to building and deploying applications on the platform. These include, tracking of commands for successful software installations, tracking of inter-service dependencies, tracking of configuration parameters for different services, and tracking of application related artifacts. We identify the provenance information to address these issues and propose mechanisms to track it.
Open Access Media
USENIX is committed to Open Access to the research presented at our events. Papers and proceedings are freely available to everyone once the event begins. Any video, audio, and/or slides that are posted after the event are also free and open to everyone. Support USENIX and our commitment to Open Access.
BibTeX
@inproceedings {190630,
author = {Devdatta Kulkarni},
title = {Provenance Issues in {Platform-as-a-Service} Model of Cloud Computing},
booktitle = {7th USENIX Workshop on Hot Topics in Cloud Computing (HotCloud 15)},
year = {2015},
address = {Santa Clara, CA},
url = {https://www.usenix.org/conference/hotcloud15/workshop-program/presentation/kulkarni},
publisher = {USENIX Association},
month = jul
}