help promote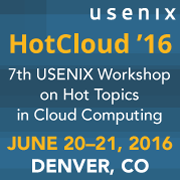 twitter
usenix conference policies
Highly Auditable Distributed Systems
Authors:
Murat Demirbas, SUNY Buffalo State; Sandeep Kulkarni, Michigan State University
Abstract:
Auditability is a key requirement for providing scalability and availability to distributed systems. Auditability allows us to identify latent concurrency bugs, dependencies among events, and performance bottlenecks. Our work focuses on providing auditability by combining two key concepts: time and causality. In particular, we prescribe hybrid logical clocks (HLC) which offer the functionality of logical clocks while keeping them close to physical clocks. We propose that HLC can enable effective detection of invariant predicate violations and latent concurrency bugs, and provide efficient means to correct the state of the distributed system back to good states.
Open Access Media
USENIX is committed to Open Access to the research presented at our events. Papers and proceedings are freely available to everyone once the event begins. Any video, audio, and/or slides that are posted after the event are also free and open to everyone. Support USENIX and our commitment to Open Access.
BibTeX
@inproceedings {190621,
author = {Murat Demirbas and Sandeep Kulkarni},
title = {Highly Auditable Distributed Systems},
booktitle = {7th USENIX Workshop on Hot Topics in Cloud Computing (HotCloud 15)},
year = {2015},
address = {Santa Clara, CA},
url = {https://www.usenix.org/conference/hotcloud15/workshop-program/presentation/demirbas},
publisher = {USENIX Association},
month = jul
}