help promote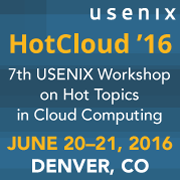 twitter
usenix conference policies
You are here
Home
»
Oh Flow, Are Thou Happy? TCP Sendbuffer Advertising for Make Benefit of Clouds and Tenants
Oh Flow, Are Thou Happy? TCP Sendbuffer Advertising for Make Benefit of Clouds and Tenants
Authors:
Alexandru Agache and Costin Raiciu, University Politehnica of Bucharest
Abstract:
Datacenter networks have evolved from simple trees to multi-rooted tree topologies such as FatTree or VL2 that provide many paths between any pair of servers to ensure high performance under all traffic patterns. The standard way to load balance traffic across these links is Equal Cost Multipathing that randomly places flows on paths. ECMP may wrongly place multiple flows on the same congested link, wasting as much as 60% of total capacity in a worst case scenarios for FatTree networks. These networks need information about the traffic they route to avoid collisions, by steering it towards idle paths, or by creating more capacity on the fly between groups of hot racks. Additionally, ECMP creates uncertainty about the path a given flow has taken, making network debugging difficult.
Open Access Media
USENIX is committed to Open Access to the research presented at our events. Papers and proceedings are freely available to everyone once the event begins. Any video, audio, and/or slides that are posted after the event are also free and open to everyone. Support USENIX and our commitment to Open Access.
BibTeX
@inproceedings {190619,
author = {Alexandru Agache and Costin Raiciu},
title = {Oh Flow, Are Thou Happy? {TCP} Sendbuffer Advertising for Make Benefit of Clouds and Tenants},
booktitle = {7th USENIX Workshop on Hot Topics in Cloud Computing (HotCloud 15)},
year = {2015},
address = {Santa Clara, CA},
url = {https://www.usenix.org/conference/hotcloud15/workshop-program/presentation/agache},
publisher = {USENIX Association},
month = jul
}