help promote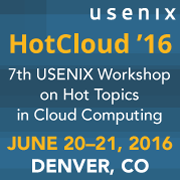 twitter
usenix conference policies
An Optimization Case in Support of Next Generation NFV Deployment
Authors:
Zahra Abbasi, Ming Xia M, Meral Shirazipour, and Attila Takacs, Ericsson Research
Abstract:
Still not long ago operators were struggling with middlebox deployment and traffic management across them. The service chaining problem was a well studied subject which had to deal with the limitations of middleboxes and offer various techniques to overcome them to achieve the desired traffic steering. Only two years have passed its official launch by ETSI, but network function virtualization (NFV) has already revolutionized the telecom industry by proposing a complete design paradigm shift in the way middleboxes are built and deployed. NFV requires the virtualization of middleboxes and other networking equipment, called virtual network functions (vNFs). This requirement will allow networking infrastructure operators to benefit from the same economies of scale and flexibility than the information technology community experienced with the advent of cloud computing. Other than the capex/opex saving and faster time to market of new services, the cloudification of networking gives us the opportunity to rethink how networking equipment are designed and deployed.
Open Access Media
USENIX is committed to Open Access to the research presented at our events. Papers and proceedings are freely available to everyone once the event begins. Any video, audio, and/or slides that are posted after the event are also free and open to everyone. Support USENIX and our commitment to Open Access.
BibTeX
@inproceedings {190628,
author = {Zahra Abbasi and Ming Xia M and Meral Shirazipour and Attila Takacs},
title = {An Optimization Case in Support of Next Generation {NFV} Deployment},
booktitle = {7th USENIX Workshop on Hot Topics in Cloud Computing (HotCloud 15)},
year = {2015},
address = {Santa Clara, CA},
url = {https://www.usenix.org/conference/hotcloud15/workshop-program/presentation/abbasi},
publisher = {USENIX Association},
month = jul
}