twitter
usenix conference policies
connect with us
Help Promote EVT/WOTE '12
Website Maintenance Alert
Due to scheduled maintenance, the USENIX website will not be available on Tuesday, December 17, from 10:00 am to 2:00 pm Pacific Daylight Time (UTC -7). We apologize for the inconvenience.
If you are trying to register for Enigma 2020, please complete your registration before or after this time period.
EVT/WOTE '12 Buttons and Banner
Please use the HTML below to display the latest EVT/WOTE '12 button or banner on your Web site. Your visitors will be able to click the button to learn more about the conference.

Size: 135w x 135h pixels
<a href="http://www.usenix.org/conference/evtwote12"> <img src="http://www.usenix.org/sites/default/files/evtwote12_button.jpg" border="0" width="135" height="135" alt="

EVT/WOTE

'12"> </a>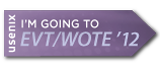 Size: 160w x 65h pixels
<a href="

http://www.usenix.org/conference/evtwote12

"><img src="http://www.usenix.org/sites/default/files/evtwote12_going.png" border="0" width="160" height="65" alt="I'm going to

EVT/WOTE

'12"></a>
Size: 450w x 93h pixels
<a href="http://www.usenix.org/conference/

evtwote12

"> <img src="http://www.usenix.org/sites/default/files/evtwote12_banner_450x93.jpg" border="0" width="450" height="93" alt="EVT/WOTE '12"> </a>