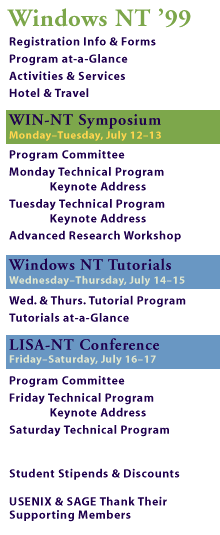 For Researchers using or adopting Windows NT as their base. Includes serious skills-training for Administrators, Developers, Researchers, and other users or Windows NT.
3rd USENIX Windows NT Symposium
July 12-15, 1999
Seattle, Washington
Sponsored by the USENIX Association
Dear Colleague,
Come and meet your peers. The 3rd USENIX Windows NT Symposium again brings together researchers who are engaged in product development, industrial research, and academic research using, or planning to use, Windows NT as a base. Other system professionals also find this Symposium a valuable source of information. This year, the particular focus is on issues such as performance, scalability and predictability - intended to take Windows NT to the Max!
Further your work by participating in the Symposium. Be informed of cutting-edge research from refereed technical papers. These are high-quality, original works that the research community can really build on. In the Futures session, you'll hear direct from the experts from Microsoft who are shaping the future of the Windows NT operating system. Two keynote speakers, Mendel Rosenblum, Co-Founder and Chief Scientist of VMware and Jim Cannavino, now CEO and Chairman of the Board of the CyberSafe Corporation, but formerly Senior Vice President of IBM, where he led IBM's battle against Microsoft, will share their insights. Demonstrations and a poster session offer you interactive, informal places to learn and exchange. There are receptions, symposium luncheons, Birds-of-a-Feather Sessions and other forums to talk over what you've learned.
Whether you are already engaged in research using Windows NT or are planning to move in that direction, this is an excellent opportunity for you. Last year's highly productive USENIX Windows NT Symposium allowed close to 400 researchers, developers and system professionals to share their experience and learn from each other.
For the 3rd USENIX Windows NT Symposium Program Committee,
Werner Vogels, Cornell University
Stephen Walli, Softway Systems, Inc.
P.S. For focused and very practical instruction, attend the two days of USENIX tutorials which follow the Symposium and preceed the Conference. Tutorials offer some of the best instructors in the field, concentrating on essentials of Windows NT, its key technologies, and integration of NT with traditional high-performance systems like UNIX.
P.P.S. Attendance is limited by the size of the hotel, so please register early to ensure your seat. In particular, register quickly for tutorials.