USENIX Technical Program - Paper - Smartcard 99&nbsp&nbsp&nbsp [Technical Program]
Investigations of Power Analysis Attacks on Smartcards
Motorola Labs, Motorola
tomas@ccrl.mot.com

Ezzy A. Dabbish
dabbish@ccrl.mot.com

Robert H. Sloan
Dept. of EE and Computer Science, University of Illinois at Chicago
sloan@eecs.uic.edu
Abstract
This paper presents actual results from monitoring smartcard power signals and introduces techniques that help maximize such side-channel information. Adversaries will obviously choose attacks that maximize side-channel information, so it is very important that the strongest attacks be considered when designing defensive strategies. In this paper, power analysis techniques used to attack DES are reviewed and analyzed. The noise characteristics of the power signals are examined and an approach to model the signal to noise ratio is proposed. Test results from monitoring power signals are provided. Next, approaches to maximize the information content of the power signals are developed and tested. These results provide guidance for designing smartcard solutions that are secure against power analysis attacks.
Introduction
Smartcard Power Dissipation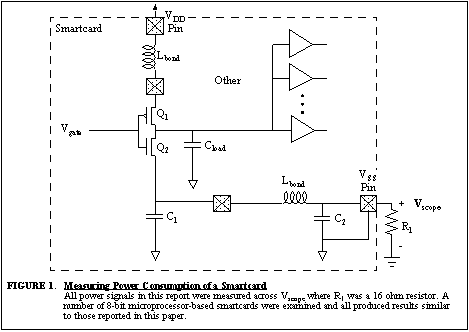 Simple Power Analysis (SPA)

or


keys depending on whether or not the parity bits are used. This was just an example; with algorithms using more key bits than DES or with triple-DES, knowing Hamming weight information alone does not help much with this type of brute-force attack.


A more powerful attack can result if the attacker can see Hamming weight information about the key bytes and also information about shifted versions of the key bytes. In DES, such information can be leaked when shifting the C and D registers. In fact, given the weight of each byte for eight of the C and D shifts there is enough information to solve for the value of every key bit using the equation

(1)
Differential Power Analysis (DPA)
(2)
(3)
(4)
(5)
where
C6 = the 6 bits of CTOi that are XOR'ed with subkey K16

K16 = 6 bits of the 16th round subkey feeding into S-box #1

SBOX1(x) = a function returning bit #1 resulting from looking up x in S-box #1
The D function of Equation (5) is chosen because at some point during a DES implementation, the software needs to compute the value of this bit. When this occurs or anytime data containing this bit is manipulated, there will be a slight difference in the amount of power dissipated depending on whether this bit is a zero or a one. If this difference is
, and the instructions manipulating the D bit occurs at times j*, the following expected difference in power equation results:

(6)
(7)
(8)
Noise in Power Analysis Attacks
Noise Characteristics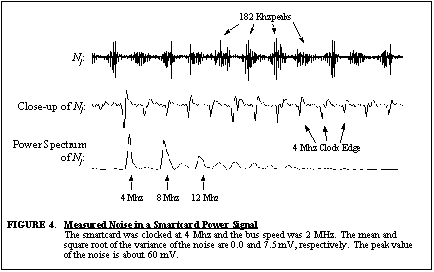 Filtering the Noise
The Effect of Averaging
(9)
(10)
Maximizing DPA Bias Signal

(11)
4-bit DPA Attack on DES
(12)
Multiple Bit DPA
Hiding the DPA Bias Spike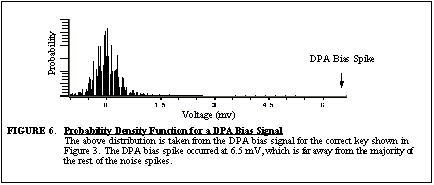 Future Work
Future research in this area will investigate power analysis attacks on hardware encryption devices and public-key cryptosystems. Preliminary work suggests that such systems will also be vulnerable, but specific attacks have not yet been evaluated. The analysis of more symmetric-key algorithms is also an important topic that will be investigated. Ways to design and implement new algorithms that are not vulnerable to these attacks will be researched. The solutions to prevent these types of side-channel attacks need to be carefully scrutinized. Comprehensive analysis techniques, testing procedures and more advanced modeling methods will be developed.
Conclusions
References
---