Program Committee
---

Tutorials at-a-Glance
Monday, August 31

Tutorial Instructors

---
Technical
Sessions
Tuesday, Sept. 1
Wednesday, Sept. 2
Thursday, Sept. 3
---
Activities and Services
---
Hotel & Travel Info
---
USENIX & SAGE Thank Supporting Members
---
Student Discounts and Stipends
---
---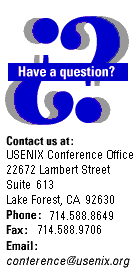 Dear Colleague:
We are pleased to invite you to attend the Third USENIX Workshop on Electronic Commerce. The state of the art in electronic commerce is progressing extremely rapidly - the Commerce Department guesses that electronic commerce is growing at double the rate of the rest of the economy. At times like these, we need to share ideas and learn from experience.
At this Workshop, we will hear about the newest solutions, examine case studies of what is being done, and try to craft authoritative insights into the long-term directions of electronic commerce. We invite you to join with us, developers, researchers, practitioners, industry leaders and some wild-eyed visionaries, to engage in serious dialogue regarding electronic commerce within the larger context. This is where the possible intersects the practical.
Preceding the Workshop are tutorials on the law of electronic commerce, cryptography, electronic payment systems, smartcard systems, and the nuts-and-bolts of setting up secure web servers. USENIX has the best instructors anywhere - critically necessary when the information to be transmitted is complex, timely or essential, much less all three.
Stuart Feldman of IBM's Institute for Advanced Commerce will give the keynote address. He will identify which technological areas of electronic commerce research can contribute most profoundly. Then refereed research reports from a wide class of endeavors will let you know of advances in e-payment systems, how to extend the benefits of auction markets onto the Internet, sophistication in providing consumer services, deploying Internet/Web Services and what it takes to do risk management in securing your systems. Case studies will offer insight into the technical practice of electronic commerce today.
Woven through the Workshop, we have invited a series of speakers and debates focussing on the role and mechanism of Public Key Infrastructure (PKI). PKI is widely assumed to be sine qua non for electronic commerce, because PKI can supply the possibility of an enforceable contract. These highly interactive sessions allow you and your peers to thrash out the many important issues surrounding PKI now and into the future.
The ample opportunity to interact and exchange ideas on the cutting edge is the particular strength of this Workshop. The schedule is intentionally full - refereed papers, invited talks, hosted luncheons, evening Birds-of-a-Feather sessions, and receptions maximize dialog and contacts for future work.
You'll find that we have put together an interesting and informative Workshop and we look forward to seeing you in Boston.
Bennet Yee, Program Chair, University of California, San Diego
Daniel Geer, PKI Sessions CoordinatorCertCo, LLC