help promote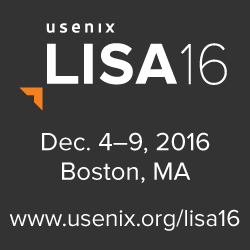 Get more
Help Promote graphics!
usenix conference policies
Call for Participation
Sponsored by USENIX, the Advanced Computing Systems Association in cooperation with LOPSA
LISA '14 will take place November 9–14, 2014, in Seattle, WA.
Overview
The LISA conference invites leaders in the IT engineering and operations community to submit proposals that demonstrate the latest tools, techniques, and solutions in their fields. LISA talks should provide attendees with inspiration and actionable ways to apply the knowledge gained at the conference. Immediate takeaways allow attendees to return to work ready to improve IT operations in support of business needs.
Important Dates
Submissions due: April 18, 2014, 11:59 p.m. PDT Deadline Extended
Notification to participants: May 25, 2014

Topics
Topics should advance attendee understanding of the technology and demonstrate how to approach a solution to a current challenge in operations.
Systems Engineering

Large scale design challenges
Cloud and hybrid cloud deployments
Software Defined Networks (SDN)
Virtualization
HA and HPC Clustering
Cost effective, scalable storage
Hadoop/Big Data
Configuration management

Security

Network IDS and IPS
Incident management
Disaster resilience and mitigation
Security testing frameworks
Continuous release security
Current security challenges

Culture

Business communication and capital planning
Continuous delivery and product management
Distributed and remote worker challenges
On-call challenges
Standardization to support automation
Standards and regulatory compliance

Devops

Site reliability engineering
Development frameworks for Ops
Release engineering
API-driven operations
Continuous deployment and fault resilience
The Ops side of DevOps

Monitoring/Metrics

Monitoring, alerting, and logging systems
Analytics, interpretation, and application of system data
Visualization of system data
Types of proposals we want to see
Talk: 40- or 90-minute talk, including time for Q&A
Panel: several experts and a moderator discussing the merits, pros and cons, or debating a particular topic
Mini-tutorial: 90-minute how-to talk that provides attendees with real-world skills to take back to work and immediately get started in the topic area
Tutorial: Half-day, full-day, or multi-day how-to course potentially with interactive components. Interactive may include in-class exercises, small-group breakout sessions, or may take advantage of the LISA lab space.
Workshop: Half-day or full-day organizer-led, participation-based sessions with the goal of bringing members of a community together to discuss common interests.
Papers and posters: LISA showcases the latest research in refereed papers and posters; see the Call for Papers and Posters for more information and to submit your paper.
Proposals must include the following
Proposal Type: talks, panels, mini-tutorials, tutorials, and workshops
Title: Should make it obvious what your talk is about
Description: Include attendee takeaways and why people want to hear this talk
Topic: Please indicate which broad topic category you think this talk addresses (from above): Systems Engineering, Culture, Security, DevOps, Monitoring/Metrics.
Speaker bio: Include past public speaking experience, with a URL to past presentations if available
Duration: Talk or tutorial length (40 minutes, 90-minutes, ½ day)
Questions?
Contact lisa14chair@usenix.org.