help promote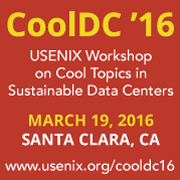 twitter
usenix conference policies
Overview
Thanks for joining us in Santa Clara, CA, for the 2016 USENIX Workshop on Cool Topics in Sustainable Data Centers (CoolDC '16). As part of our commitment to open access to research, the workshop papers and presentation slides are free and open to the public on the Workshop Program page.
Conference Organizers
Program Co-Chairs
Weisong Shi, Wayne State University
Thomas F. Wenisch, University of Michigan
Program Committee
Kirk Cameron, Virginia Tech
Christina Delimitrou, Stanford University
Michael Ferdman, Stony Brook University
David Irwin, University of Massachusetts Amherst
Tao Li, University of Florida/NSF
Jie Liu, Microsoft Research
Karthick Rajamani, IBM Research
Anand Sivasubramaniam, The Pennsylvania State University
Xiaorui Wang, The Ohio State University
Website Maintenance Alert
Due to scheduled maintenance on Wednesday, October 16, from 10:30 am to 4:30 pm Pacific Daylight Time (UTC -7), parts of the USENIX website (e.g., conference registration, user account changes) may not be available. We apologize for the inconvenience.
If you are trying to register for LISA19, please complete your registration before or after this time period.